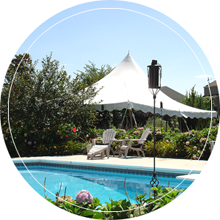 Cool Down, Poolside
Summer parties are all about location, locatin, location. Our favorite type of summer party is, of course, a pool party. Don't have a pool handy? Try going to a community pool. Pool parties also go great with cookouts. Cookouts in a park are a particularly great idea, especially if the park has lakes that can be used not only for a fantastic view, but for a fun way to cool off. If a pool or lake isn't an option, just having a cookout in your backyard can be just as fun. Add in some fun with slip-'n'-slides, or even set up a sprinkler system for your guests to run through. Splash in some extra fun with our bounce houses to keep your guests jumping for joy. Be sure you also have a shady area for people to cool down under. A tent is a great way to add some shade from the sun on a blazing hot day.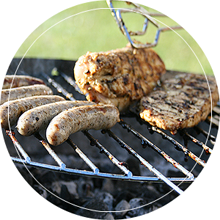 Grilled to Perfection
It's the season for cookouts! If you're stuck in the summer without a grill, have no fear. Barbeque is a blast with the plenty of grills we offer, from charcoal to propane. Grill some chicken, hot dogs, hamburgers, or even some steak for your guests. Don't forget to have some refreshing drinks for your guests. Keep it all cold in an ice chest. In fact, since you're going to be having the party of the summer, spice up your drinks! Create colorful smoothies and complete them with miniature umbrellas. We've got all the glassware you could possibly need for any type of summer drink. With all of your delicious foods and drinks, you're definitely going to need a shady and relaxing place to eat. Cover up that dingy picnic table with vibrant linens and colorful decorations to complete the cookout.
Lavish Luau Decor
You've already got your tent, table, and chairs. You can't just leave them plain! Jazz it up with vibrant table cloths in raspberry, light blue, orange, or yellow. Create fun summer centerpieces using small tikis or coconuts. Another fantastic idea is to fill a bubble bowl with sand and sea shells to bring the beach right to your backyard. Create napkin ring holders with sea shells to add even more of a beach theme. Is your party going into the night? String lights through your trees and set up a few tiki torches to create a fun and romantic atmosphere. Shake in some more summer fun by buying inflatable pool toys, colorful flower leis, sparklers, snow cones, and a super fun limbo stick. Your guests will be sure to remember your summer bash for years to come!